With a robust patent portfolio, and having brought hundreds of products to market, Konnectronix is adept at creating solutions that are unique and tailored to each respective market.
From consumer solutions that make an impression to medical products with complex regulatory requirements, the Konnectronix team can make any concept come to life.

Konnectronix is a leader in technology development for complex electrical and mechanical assemblies and the software that drives them.
Ask us about
• Mechanical Engineering
• Electrical Engineering
• Software Engineering
• Production Tool Design

Prototyping is an invaluable tool in the design process. On-site modeling machines allow our designers to validate each step of the development process. To see if a part will fit into the configuration as planned, our engineers can create a model overnight for early morning testing. By verifying progress along the way, prototyping eliminates potential integration and installation problems down the line and expedites the design process.
Precision crafted representations of your design validate all aspects of functionality and aesthetics prior to production.
Ask us about
• Fully Functional Working Prototypes
• Proof-of-Concept
• Appearance Models

At Konnectronix, we have long recognized that to be a true partner means being there every step of the way. To that end, we continue to grow capability sets aimed at ensuring that products are tested and verified throughout the development life cycle. Depending on the product being delivered, the type of testing and timing will vary, but what never changes is the company's commitment to excellence.
Whether your program calls for engineering validation testing, environmental compliance testing, UL or CE certification, or FDA testing, our team is ready to lead the effort. From test fixture and setup design to documentation and test execution, we have experienced staff members ready to work with you to achieve success.
Cord Reel Testing
Understanding that customer use of our cord reel technology can be unique, every cord reel design is validated utilizing both mechanical and human interface testing that is designed to simulate actual use.
Environmental Compliance Testing
Konnectronix has unique processes in place to ensure material compliance within our supply base and validates material compliance during both development and product lifecycle management. Whatever your requirement, RoHS, REACH, Conflict-Mineral compliance or some other requirement, we are prepared to support your needs.
At our manufacturing facility in Waukegan, Illinois, our manufacturing and engineering staff work side-by-side to ensure not just cutting-edge design, but design for manufacturability. Every project begins with a comprehensive plan and early involvement with operations. We track all stages and gates of manufacturing to maintain target delivery dates.
Strategic sourcing through our network of partners allows us to work around embargo and short-term raw material gaps to maintain the precise delivery control our customers demand.
While all Konnectronix products for regulated industries are manufactured at our headquarters, for larger volume programs, we have a trusted network of partners in Asia that can be called upon.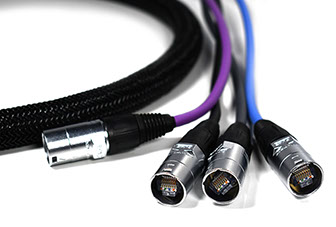 Cable Harness
Production and Prototypes (Quick Turn)
Specialty connectors
Fiber Optic connections
Specialty Cable Constructions
Braided Cable or Mesh Cover