ALL-WEATHER CORD REEL PLATFORM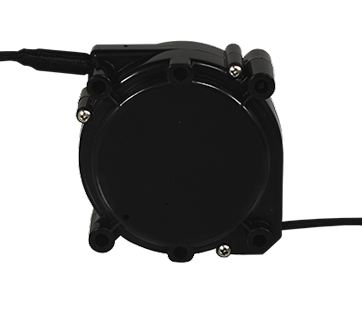 The 2.5 INCH platform was originally designed for retail security and highly regulated communication applications. This cord reel offers cable lengths of up to 45 inches and provides uninterrupted, low-voltage power, data and signal transmissions in a compact and versatile profile. With cable options ranging from the company's patented USB 2.0 cable construction to standard telephony cabling, this platform has been tested to keep performing with extensive use and in rugged environments.
SPECIFICATIONS
Electrical
5V @ 2.2A (Typical Standard. May vary with application.)
Characteristic Impedence Matching Available
Environmental
-20°C to 85°C Operating Temperature
Material
ABS (Black)
Physical
Dimensions 2.5" Diameter x 1.75" High
Retractable Cable Length: Up to 45 Inches*
Cable Type: Customer Specified
Connectors: Customer Specified
Mounting Options:
Flush using inserts
Brackets Available
Optional Internal Ratchet System
Patented Technology
The 2.5 INCH platform may be covered by one or more patents.
For a complete listing, please visit
www.konnectronix.com/legal.html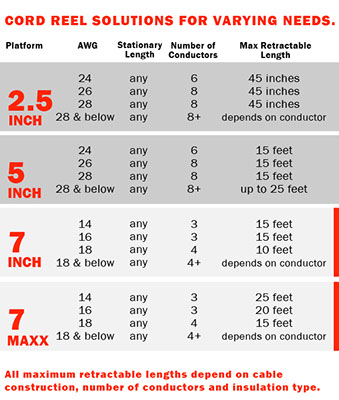 YOU MAY ALSO BE INTERESTED IN...
The 2.5 INCH is a compact and versatile cord reel for low voltage power, data and signal. This platform allows up to 45 inches of retractable cable length, depending on the connector size and cable construction.
The 5 INCH cord reel platform is ideal for automation, low voltage power, data, signal, telecommunication, and industrial and laboratory applications. Depending on conductor size and cable construction, this product allows up to 25 feet of retractable cable length.
The Teardrop cord reel is perfect for data and signal applications. It allows up to 15 feet of
retractable cable, depending on conductor size and cable construction.

The 7 INCH and 7 MAXX cord reel platforms feature Konnectronix's patented brushless cord reel technology and strain relief design which provide for uninterrupted signal transmission and ensure continued reliability, no matter the weather.

Coming soon: Electric Vehicle and other Power options coming soon.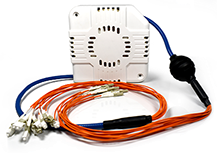 The Fiber Optic cord reel is safe for indoor and outdoor use.
Copyright © 2020 Konnectronix, Inc. All rights reserved. Konnectronix is a registered trademark of Konnectronix. For a complete Konnectronix patent and trademark listing, please visit our legal page.
2340 Ernie Krueger Circle Waukegan, IL 60087 847-672-8685 [email protected]